When she came to America from Sicily in 1908, Rosina Cammarata Sardo (or Mama Rosie as we all called her) brought with her the tradition of home-cooked pasta, passed down and crafted over generations. Since our founding in 1976, we have been proud to share our wholesome pasta creations — from our family to yours.

.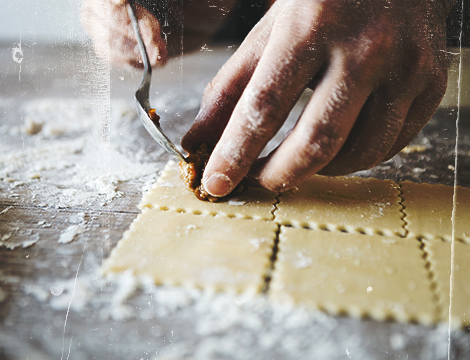 Old World Tradition
In Every Bite.
With family recipes perfected over generations, Mama Rosie's uses only the highest quality, all-natural ingredients to bring you that wholesome, authentic flavor in every bite.
Mama's Rules to Cook By:
Honor Mama's authentic Old World recipes — they've been passed on for generations for a reason!
Respect each and every ingredient — simple, all natural and preservative-free.
Nothing brings families together like a great meal. So, pass the plate and share the love!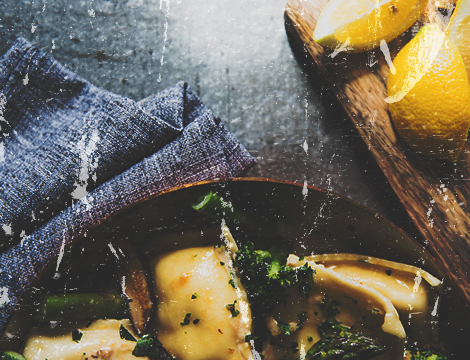 Freshly Milled Durum Wheat
Grown and harvested in the pristine plains of North Dakota, our freshly milled Durum wheat is the perfect flour for making our traditional pasta.

Tomato Sauce from Vine-Ripened Fresh Tomatoes
From California's San Joaquin Valley to your kitchen, we use made-from-scratch, vine-ripened tomato sauce to give each dish that autentico taste. Bursting with fresh flavor and the finest ingredients, it's the only choice for our traditional recipes.

Freshly Grated Imported Pecorino Romano Cheese
Only the most fresh and premium cheeses make it onto Mama's recipes. That's why we use DOP, Denominazione di Origine Protetta (also known as Protected Designation of Origin), wheels of Pecorino Romano cheese imported from the Sardegna Region of Italy which we open and grate each morning. With rich sheep's milk flavor, plus whey protein, iron and calcium, you'll find cheesy delight in every bite.

Freshly Grated Imported Parmigiano Reggiano Cheese
Truly the "King of Cheeses," the premium DOP wheel of Parmigiano Reggiano, which we open and grate each morning, is aged for up to 36 months and boasts a crumbly texture and buttery, nutty flavor. It makes every dish a trip to the southern banks of the Po River in the Emilia-Romagna Region of Italy, where it's made.

Freshly Grated Imported Asiago Stravecchio Cheese
Savory goodness and a slightly spicy aftertaste make this cheese an unforgettable addition to our favorite dishes. Handcrafted and aged for 18 months in the Veneto Region of Italy, the DOP wheel of Asiago Stravecchio, which is opened and grated each morning, adds that distinct Old World flavor to our recipes.

Hand Harvested Sicilian Sea Salt
For millennia, Sicilians have been harvesting some of the world's finest sea salt along La Via del Sale, from Trapani to Marsala. With a perfectly balanced taste, this sea salt's flavor will sweep you away to the shores of the Mediterranean.
Mama Rosie's Mission Statement:
For over 40 years, we've been using Old-World recipes taught by Mama Rosie to craft signature Italian dishes. And every day, we strive to help families connect over wholesome meals at the dinner table. With a commitment to support our community, our environment and our team, we use the power of food to bring everyone together, come una famiglia — just the way Mama intended.
Our Community
Through our partnerships with the Greater Boston Food Bank and their affiliates, Mama Rosie's donates thousands of delicious meals every year to children and families in need.
Our Commitment 
A healthy community is a prosperous one. That's why Mama Rosie's is committed to diversity within our workforce and to environmentally sustainable practices, like waste reduction and renewable energy.
Our Integrity
Every day, we strive to be synonymous with high quality food. Since 1976, we've been steadfast in our use of natural ingredients, with no additives or preservatives — just fresh-tasting, wholesome meals.